New Glass Diaphragms
for early phonograph reproducers and recorders
and Victor Exhibition


Precise reproduction french glass diaphragms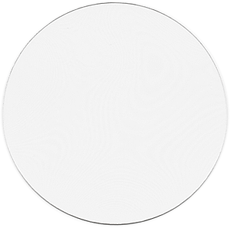 After almost two years of inquiring and testing, I am proud to announce the availability of new french glass diaphragms for early cylinder reproducers and recorders:

Newly engineered French glass diaphragms for early phonograph reproducers and recorders - made of high quality thin glass all manufactured to the old specifications, each precisely and smoothly cut. Now also available for Victor Exhibition reprocuders!
The vast majority of early phonograph reproducers and recorders from the 1890s are discovered with broken or missing glass diaphragms. In some cases restoration is even impossible without destroying the old glass diaphragm. Because of the extreme rarity of expensive, old glass stock, many restorations are made using mica diaphragms. Due to its unique acoustical characteristics, both in recording and in playback, only glass provides a truly authentic and original sound.

As shown here, both sizes of glass diaphragms come without center holes, just as the original glass diaphragms. Place the diaphragm between the two existing rubber gaskets and just apply some crazy glue, a drop of shellac, or a very tiny drop of clear epoxy glue to the diaphragm's center to attach the link carriage (Edison), stylus bar, or recording stylus (Columbia). Feel free to ask if uncertain.

A genuine quality product crafted in Ger

ma

ny
!


33mm (1.30") size for cylinder phonographs
Prices:
1 diaphragm: $ 7
2 diaphragms: $ 12
5 diaphragms: $ 28
10 diaphragms: $ 55

43.2mm (1.7") size for Victor Exhibition and compatible


1 diaphragm: $10
2 diaphragms: $19

5 diaphragms: $ 46
10 diaphragms: $ 88

Shipping


Worldwide: $ 2.80
Free shipping for 5 or more diaphragms

Payment options: Cash in registered letter / cashier's check / personal check / Paypal / Bitcoins. Contact me to place your order.

edison columbia victor talking machine wax cylinder phonograph record gasket reproducer recorder stylus old antique vintage acoustic two-minute repair restoration disc disk blue amberol brown wax indestructible north american class m type n type g type k graphophone bell tainter


---
© 1998-2018 by Norman Bruderhofer